COMPASS EDUCATION LEVEL 1 ONLINE COURSE
Teaching and Learning for a Sustainable World: A Systems Thinking Approach
February 6 – March 26
June 25 – July 8 (intensive course)
September 4 – October 22
Registration opens on November 15. Sign up for the waitlist to be notified upon its opening!
| Product | Level 1 Only | Level 1 + Level 2 |
| --- | --- | --- |
| Single Registration | USD $419 | USD$819 |
| School Cohort of 3-5 people | USD $389/person | USD $789/person |
| School Cohort of 6+ people | USD $369/person | N/A |
Note: Learn more about the Level 1 and Level 2 package here. Scholarships are available for public schools in developed countries and by application.
This course is designed for (formal and non-formal) educators and program leaders who want to integrate sustainability education and systems thinking into their teaching practice. It would also be of value to curriculum leaders and principals interested in understanding what the practical application of sustainability education looks like.
This course is facilitated by certified Compass Facilitators. Check out our team of Compass Facilitators here.
This course consists of blended synchronous and asynchronous learning that typically requires 2-3 hours per week. The course must be completed within seven weeks of the start date.
To gain Compass Practitioner (Level 1) certification it is necessary to complete all activities to a satisfactory level and complete a final project that includes creating a lesson plan using the tools.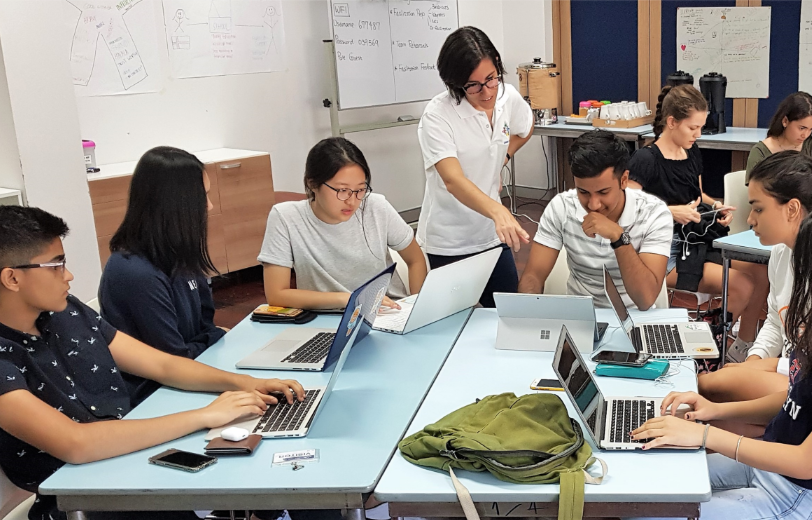 This is a 7-week (regular) or 2-week (intensive) cohort-based, asynchronous, facilitator-guided course, using both independent and collaborative learning methods. Participants will explore the concept of sustainability with a specific emphasis on the role of education and the use of systems thinking to enhance student learning. Systems thinking tools and methods will be demonstrated and participants will have the opportunity to explore their practical application. The aim of the course is for participants to leave with a deeper understanding of sustainability, a greater awareness of their own systems contexts, skill in using systems thinking tools and the ability to successfully incorporate and align sustainability with the existing curriculum. Whether you're running a school or facilitating a conversation in the classroom, this course is for you!
We recommend that the course be taken concurrently by two or more members of the same school or organization as it allows for deeper, contextual conversations revolving around the concepts and tools covered. Discounts are available for cohorts of three or more.
Level 1 + Level 2 Package
Looking for ways to empower your students and yourself to be agents of sustainable change? Do you want to inspire both your students
and your broader school community to think about sustainability? Take this package!
BONUS 30 minutes of 1-1 meeting with a Compass Facilitator during your Level 1 course in addition to the meeting you get during Level 2

Increased connection with more members of the global Compass Educator network with whom you can collaborate and learn

Direct pathway to becoming a Compass Facilitator so you can help build the global movement of educators using systems thinking
to build a more sustainable world

Discount available for school cohort registration of 3 people!
Build a shared language in your community for sustainability
Create lesson/unit plans with a partner
Have a thought partner (in addition to your facilitator!)
Use the money you save towards future sustainability projects! 
Cohort Pricing:
$389/person for 3-5 people

$369 for 6+ people
I cannot say enough about how much I needed this course, and how it is just right for the moment we are living in today. I'm going to move forward with a sustainability mindset in all that I do, and I've been given tools to help expand this throughout my school community. This course will make you a better educator, and even more, a better person for our planet. It's given me great hope for the world, and the future of what education can be. This course comes with my highest recommendation, and I can't wait until I can start with Level 2.
A well organised course that introduces you to so many great, easy to use sustainability tools that can be easily implemented into your educational settings, irrespective of student ages. The models encourage students to analyse situations critically, in order to understand how they can create positive systemic changes. Everyone should be completing this course!
For a few years I was aware that I needed to understand systems thinking to be a better practitioner, and Teaching & Learning for a Sustainable world provided me with a deep learning experience of just that. This course was great for beginners like me as it held my hand in developing my understanding of systems thinking through strategically designed tools, readings, assignments, discussion boards and conference hours. The feedback on the assignments and contact time with the facilitators really pushed my thinking. I would highly recommend this course to all teachers.
This course taught me that, by changing the lens through which we teach and creating opportunities for students to be skeptical and think critically, it is not actually such a daunting task to create a generation of change makers.
As a team, we were able to experience and learn different tools to be able to bring them to our students as well as other areas of interest. These tools don't stay in a classroom. They go beyond areas of study and work.
I was able to collaborate with professionals in Singapore, England, Scotland, China and the US AND reduce my carbon footprint!
The Compass Education course offered me so many wonderful tools to improve my approach to my work in SDGs and sustainability. Breaking down my thoughts, goals, struggles and aspirations through their tools helped me to get better organized and articulate what I am trying to achieve. The course is well designed and thought out, with all resources being of appropriate length and detail. The facilitators are helpful and really allow you to shape your experience, based on your context, interests, and needs.
I thoroughly enjoyed this course! The chance to challenge my beliefs and to be inspired that I can make a difference will propel me in my teaching. Being a veteran teacher, I know that new learning is so important for my students and it is the same for me. I will encourage my teammates and colleagues to look into this learning opportunity.
The Compass Education Level 1 is an eye-opening course that provides ready-to-use sustainability tools that can be implemented into any subject in any school. This course has been the best professional development course I have been on since I became a teacher 5 years ago. It is engaging, well planned out and the feedback is excellent.
The Level 1 course was one of the best professional development courses I have ever taken. As a district science coordinator, I participate in quite a few PD sessions every year. However, none have provided me with so many immediately useful strategies that allow students and teachers the opportunity to deeply think about connections between their standards and the causes and implications. By taking time to make these connections, students and teachers can better understand the interconnectedness of our world and society and that changing one seemingly distant idea or attribute can have a broad impact on so many things.
This was a great course. It provided great examples and models that helped to push my thinking deeper about sustainability and how I could incorporate it into my practice.
This is one of the best online PDs I have participated in. I learned so much and it has changed how I will do my job.
This course may be the most important thing you do right now, both in terms of sustainability and pedagogy. The approaches and tools not only encourage and foster shifts towards sustainability but they also promote powerful thought-processes that will empower the young people of today at a time when that empowerment is more important than ever.
I used to think that sustainability was a content area subject, but now I think that sustainability is habit of thinking to analyze problems and develop solutions.
I used to think that teaching students how to think critically and from a systems thinking perspective was a daunting task, but now I feel like it's quite easy and fun, especially with the applicable tools gained from this weekend.
An incredible workshop that will allow you to push your students to think deeper. Inspiring, engaging and transformational in relation to students learning.
Relevant, meaningful and timely! This is the workshop all educators should do as part of professional development aimed at encouraging our students to be proactive, collaborative, critical thinkers who make a positive difference in the world we live in.
In this course, you will…
• Discuss the imperative for sustainability education in a global context
• Identify sustainability dispositions and examine their compatibility with your personal educational philosophy and institutional values
• Understand the relationship between sustainability and systems thinking
• Explore the educational uses of systems thinking tools
• Discover how sustainability habits of mind can be integrated into teaching and learning
• Develop unit/lesson plans to include sustainability perspectives and systems thinking tools in your classroom

What will you take away from this course?
• A practical understanding of sustainability and systems thinking
• 1-1 mentorship and feedback from your Compass facilitator
• Powerful conversations and practical analysis of your educational setting
• Useful tools that can be integrated into any curriculum and every class level
• Access to our database of educator sourced lesson plans
• Professional networking with a global cohort of educators

Certifications
Qualify to apply for Compass Education Level 1 "Compass Practitioner" Certification which can lead towards certification as a Compass Trainer (if all requirements are complete).
Who should participate?
Educators and program leaders who want to integrate sustainability education and systems thinking into their teaching practice. Curriculum leaders and administrators interested in understanding what the practical application of sustainability education looks like.
Time Expectations
We suggest that educators set aside 2-3 hours per week to do the readings, participate in the discussions and complete the suggested exercises. The course is designed to be immediately applicable in your context and the exercises often relate to your school environment, which is a win-win in the implementation and use of the tools in your classroom.

In addition to the asynchronous participation in the course, you will be invited and strongly encouraged to participate in four optional synchronous sessions with your facilitators. We will do our best to accommodate timing for different time zones.
1-1 Facilitator Support
This course is unique from many online courses because of the focus that we place on supporting our participants in their learning journey. Every participant will be assigned a mentor/facilitator whose educator experience most aligns with theirs. Your facilitator will accompany you throughout, providing personalized feedback and the opportunity to dive deeper based on your context.
Lesson 1: An Intro to Sustainability
By the end of the lesson, you will be able to:

• Create your own definition of holistic sustainability.
• Explain your role as an educator in building a sustainable world.
• Feel a sense of agency in educating for a sustainable world.
Lesson 2: Sustainability in My Context
By the end of the lesson, you will be able to:

• Reflect on your educational philosophy and its connections to sustainability.
• Find leverage in already existing school/organization documentation to address sustainability.

Lesson 3: The Sustainability Compass
By the end of the lesson, you will be able to:

• Understand the Sustainability Compass as a systems thinking tool.
• Apply the Compass to a commonly encountered situation.
• Use the Compass within your own context.
• Reflect on the value of using The Compass as a tool for analysis and collaboration.
Lesson 4: The Systems Iceberg
By the end of the lesson, you will be able to:
Explain the Iceberg Model, including the different levels and how they're connected.
Apply the Iceberg Model to an example either in your own life or in the classroom.
Lesson 5: Systems Thinking Tools
By the end of the lesson, you will be able to:
• Give a definition of systems thinking.
• Describe the educational uses of systems thinking tools such as behavior over time graphs and closed loop diagrams.
Lesson 6: Action Planning
By the end of the lesson, you will be able to:
• Identify habits of mind that promote system thinking and sustainability.
• Create an action plan for how to use the Compass Tools in your classroom.
Lesson 7: Join the Movement
By the end of the lesson, you will be able to:
• Register for and access the Compass Tools (Accelerator Lite).
• Identify different ways to connect with Compass trained educators.
• Recognize the impact of global collaboration and opportunities for sharing.
Questions? We'd love to hear from you.
Do you do whole school trainings?
Yes!  Compass Education offers several opportunities for larger numbers of participants in both virtual and in person formats.  Please get in touch. 
What does asynchronous mean?
The course is designed to run asynchronously but participants are encouraged to keep up a pace of one module per week.  Two to three additional live meetings are scheduled (optional) for interested participants who would like to dive deeper or speak directly with their facilitator. 
What is the difference between regular and intensive course?
Regular course is a 7-week course program in the spring and fall with a global cohort of educators and a facilitator who provides feedback on weekly assignments. The course consists of 12-15 hours of content with up to 4 hours of facilitator and cohort meeting time (depending on participant availability).
Intensive course is a 2-week course program in the summer with a global cohort of educators and a facilitator who provides feedback on assignments. The course consists of 12-15 hours of content with up to 4 hours of facilitator and cohort meeting time (depending on participant availability).
What outcome can I expect?
You can expect to feel comfortable using several new systems tools and integrating them in your classroom lessons.   There are quite a few other outcomes depending on how you show up for the course and what most captures your interest. 
Do you offer this course in any other format?
Yes, we offer the same course as a two day onsite workshop.  See the professional development pages of our website. 
Can I actively participate in the course if I'm currently not teaching?
You can actively participate in the Level 2 course as long as you are able to identify a central challenge that you want to address using the new systems thinking tools (and familiar) that you will learn. As long as you choose a central challenge that you can still work on in your current context, you should also still be able to begin implementing your action plan which is the prerequisite for applying for Level 2 (Compass Educator) certification.
How do I become certified as a Compass Practitioner?
To become certified by Compass Education as a Compass Practitioner, you must:
Complete Compass Practitioner (Level 1) course
Complete all modules in the course and submit your lesson plan that uses at least one of the systems thinking tools you learned in the Level 1 course.  Your submission will be evaluated by our facilitators who will authorise your certification. 
Does this course qualify for professional development credit?
Yes, in most schools this course would qualify.  Every school is different so please check with your school and reach out to our admin team if you have any questions. 
Can I receive personalized support?
During the course you are encouraged to reach out to your facilitators with questions or with requests for individual support at any time.  We have several options to continue to learn and get support after the course is completed. 
What if I sign up for a course, but I have to reschedule or I can't finish it within the time frame?
We understand that unexpected situations can arise that detract from your energy to focus on learning with us.
If you defer your course before it begins, we can re-enrol you in another course scheduled

within 1 year

from your initial registration date.
If you re-enrol after the course has begun, we will charge a

$100 re-enrollment fee

to help cover the cost of our facilitators' energy, effort, and administrative costs.
If you are almost done with the course (more than half through/Lesson 5) when the course dates conclude, we may be able to arrange special accommodations to help you finish the course

without re-enrollment

.
We encourage you to communicate your needs with our team, if a situation arises that might lead you to defer.