COMPASS EDUCATION LEVEL 1 ONLINE COURSE
Teaching and Learning for a Sustainable World: A Systems Thinking Approach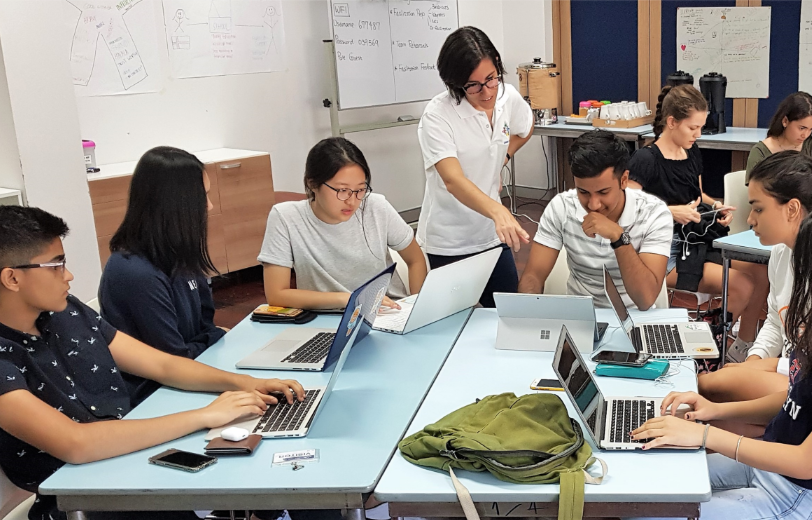 This is a seven-week cohort-based, (mostly) asynchronous, facilitator guided course, using both independent and collaborative learning methods. Participants will explore the concept of sustainability with specific emphasis on the role of education and the use of systems thinking to enhance student learning. Systems thinking tools and methods will be demonstrated and participants will have the opportunity to explore their practical application. The aim of the course is for participants to leave with a deeper understanding of sustainability, a greater awareness of their own systems contexts, skill in using systems thinking tools and the ability to successfully incorporate and align sustainability with existing curriculum. Whether you're running a school or facilitating a conversation in the classroom, this course is for you!

We recommend that the course be taken concurrently by two or more members of the same school or organization as it allows for deeper, contextual conversations revolving around the concepts and tools covered. Discounts are available for cohorts of three or more.


Build a shared language in your community for sustainability
Create lesson/unit plans with a partner
Have a thought partner (in addition to your facilitator!)
Use the money you save towards future sustainability projects! 
Cohort Pricing:
$369/person, 3-5 people
$329, 6+ people
I used to think that sustainability was a content area subject, but now I think that sustainability is habit of thinking to analyze problems and develop solutions.
I used to think that teaching students how to think critically and from a systems thinking perspective was a daunting task, but now I feel like it's quite easy and fun, especially with the applicable tools gained from this weekend
An incredible workshop that will allow you to push your students to think deeper. Inspiring, engaging and transformational in relation to students learning
Relevant, meaningful and timely! This is the workshop all educators should do as part of professional development aimed at encouraging our students to be proactive, collaborative, critical thinkers who make a positive difference in the world we live in.
In this course, you will…
• Discuss the imperative for sustainability education in a global context
• Identify sustainability dispositions and examine their compatibility with your personal educational philosophy and institutional values
• Understand the relationship between sustainability and systems thinking
• Explore the educational uses of systems thinking tools
• Discover how sustainability habits of mind can be integrated into teaching and learning
• Develop unit/lesson plans to include sustainability perspectives and systems thinking tools in your classroom

What will you take away from this course?
• A practical understanding of sustainability and systems thinking
• 1-1 mentorship and feedback from your Compass facilitator
• Powerful conversations and practical analysis of your educational setting
• Useful tools that can be integrated into any curriculum and every class level
• Access to our database of educator sourced lesson plans
• Professional networking with a global cohort of educators

Certifications
Compass Education Level 1 "Compass Practitioner" Certification which can lead towards certification as a Compass Trainer (if all requirements are complete).
Who should participate?
Educators and program leaders who want to integrate sustainability education and systems thinking into their teaching practice. Curriculum leaders and administrators interested in understanding what the practical application of sustainability education looks like.
Time Expectations
We suggest that educators set aside 2-3 hours per week to do the readings, participate in the discussions and complete the suggested exercises. The course is designed to be immediately applicable in your context and the exercises often relate to your school environment, which is a win-win in the implementation and use of the tools in your classroom.

In addition to the asynchronous participation in the course, you will be invited and strongly encouraged to participate in two optional synchronous sessions with your facilitators. We will do our best to accommodate timing for different time zones.
1-1 Facilitator Support
This course is unique from many online courses because of the focus that we place on supporting our participants in their learning journey. Every participant will be assigned a mentor/facilitator whose educator experience most aligns with theirs. Your facilitator will accompany you throughout, providing personalized feedback and the opportunity to dive deeper based on your context.
Lesson 1: An Intro to Sustainability
By the end of the lesson, you will be able to:

• Create your own definition of holistic sustainability.
• Explain your role as an educator in building a sustainable world.
• Feel a sense of agency in educating for a sustainable world.
Lesson 2: Sustainability in My Context
By the end of the lesson, you will be able to:

• Reflect on your educational philosophy and its connections to sustainability.
• Find leverage in already existing school/organization documentation to address sustainability.

Lesson 3: The Sustainability Compass
By the end of the lesson, you will be able to:

• Understand the Sustainability Compass as a systems thinking tool.
• Apply the Compass to a commonly encountered situation.
• Use the Compass within your own context.
• Reflect on the value of using The Compass as a tool for analysis and collaboration.
Lesson 4: The Systems Iceberg
By the end of the lesson, you will be able to:
Explain the Iceberg Model, including the different levels and how they're connected.
Apply the Iceberg Model to an example either in your own life or in the classroom.
Lesson 5: Systems Thinking Tools
By the end of the lesson, you will be able to:
• Give a definition of systems thinking.
• Describe the educational uses of systems thinking tools such as behavior over time graphs and closed loop diagrams.
Lesson 6: Action Planning
By the end of the lesson, you will be able to:
• Identify habits of mind that promote system thinking and sustainability.
• Create an action plan for how to use the Compass Tools in your classroom.
Sterling Committee Member, Compass Trainer
Laurence Myers is originally from Athens, Greece and is proud of it! He is currently the Service Learning Coordinator at the American School of Dubai (ASD).
Laurence holds an M.Ed. degree in Educational Administration from the University of Nebraska, an M.A. in Kinesiology from the University of Minnesota and a B.A. in International Relations from The College of Wooster. He also holds a certificate in Education for Sustainable Development through the Earth Charter (University of Peace), a Sustainability Leadership certificate from Ithaca College as well as a Serve & Learning Certificate in Service Learning from the Washington State Office of the Superintendent of Public Instruction.
Laurence has presented and facilitated sustainability, service learning and systems thinking workshops and professional training within schools, at conferences and online throughout the world. Recently he coordinated ASD's winning submission for a Zayed Sustainability Award Global High Schools category (MENA region).
Sterling Committee Member, Compass Trainer
Kath Lane is a primary school teacher from the UK who has a passion for educating children about nature and sustainability. She worked at Green School in Bali, Indonesia and has completed a Masters of Education in Educating for Sustainability at Antioch University in the United States. Her most recent position was a Grade 5 teacher in United World College of South East Asia – East, in Singapore, where she was also Environmental Stewardship Coordinator and was actively involved in infusing sustainability education across the primary grades and beyond.
Kath believes that through systems thinking in the curriculum, outdoor education, service and personal/social education children can be given the passion, skills and qualities needed to make the right choices and find sustainable solutions for our world.
Questions? We'd love to hear from you.
Do you do whole school trainings?
Yes!  Compass Education offers several opportunities for larger numbers of participants in both virtual and in person formats.  Please get in touch. 
What does (mostly) asynchronous mean?
The course is designed to run asynchronously but participants are encouraged to keep up a pace of one module per week.  Two to three additional live meetings are scheduled (optional) for interested participants who would like to dive deeper or speak directly with their facilitator. 
What outcome can I expect?
You can expect to feel comfortable using several new systems tools and integrating them in your classroom lessons.   There are quite a few other outcomes depending on how you show up for the course and what most captures your interest. 
Do you offer this course in any other format?
Yes, we offer the same course as a two day onsite workshop.  See the professional development pages of our website. 
How do I become certified as a practitioner?
To become certified by Compass Education as a practitioner, you must complete all modules in the course and submit a lesson plan that uses at least one of the tools.  Your lesson plan will be evaluated by our facilitators who will authorize your certification. 
Does this course qualify for professional development credit?
Yes, in most schools this course would qualify.  Every school is different so please check with your school and reach out to our admin team if you have any questions. 
Can I receive personalized support?
During the course you are encouraged to reach out to your facilitators with questions or with requests for individual support at any time.  We have several options to continue to learn and get support after the course is completed.